Herby Duverné of Windwalker Group to Keynote the 4th Annual Haitian American Young Professional Awards and Gala Night
We are thrilled to announce that Mr. Herby Duverné, the Founder and CEO of Windwalker Group, will grace our 4th Annual Haitian American Young Professional Awards and Gala Night as the keynote speaker. This prestigious event is scheduled for Sunday, November 19, 2023, at the Hilton Hotel in Dedham, Massachusetts.
Mr. Duverné, an exemplar of entrepreneurial excellence and community leadership, brings a wealth of knowledge and experience to our gathering. His journey, marked by dedication and an unyielding commitment to fostering socio-economic growth, resonates with the ethos of our Chamber and the broader Haitian-American professional community.
We eagerly look forward to Mr. Duverné's insights, which will undoubtedly invigorate our collective endeavors toward creating a stronger, more connected community. His address will inspire and encourage the next cadre of Haitian-American professionals.
We invite you all to join us in what is set to be a memorable and enriching evening. Your presence will significantly contribute to the event's success and the continuing growth of our vibrant community.
Tickets and sponsorship opportunities are available on our website. For more information, please get in touch with us at contact@ushaitianchamber.org.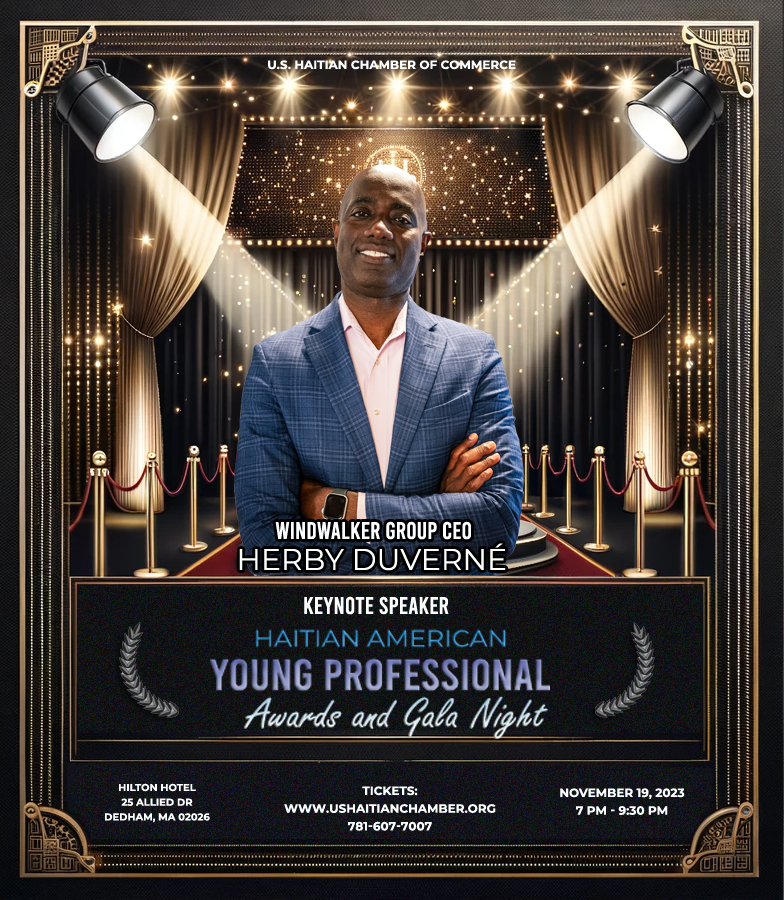 We look forward to celebrating with you.
Herby Duverné President and CEO, Windwalker Group | Co-Founder, RISE | Investor
Herby Duverné's remarkable journey to success is a testament to his resilience and determination. Born in Haiti, he spent his formative years there until the age of 20 when he arrived in the United States without speaking a word of English. Undeterred, he embarked on a remarkable journey, taking on various jobs and tirelessly pursuing higher education.
Herby Duverné leads Windwalker Group, an award-winning 8(a) small business that excels in delivering cutting-edge physical and cybersecurity solutions, custom training programs, and professional services. Under his leadership, clients achieve their business goals with excellence, resulting in increased security and efficiency.
As the Co-Founder of RISE, a certified MBE real estate development and investment company, Herby is deeply committed to fostering equitable growth opportunities within the community. RISE unites people around a common cause: creating thriving, diverse, and healthy neighborhoods by ensuring everyone has a seat at the table.
In addition to his roles as a business leader and investor, Herby actively contributes to various board memberships. He was appointed by Governor Healey and Lt. Governor Driscoll to serve as a board member for the Massachusetts Housing Finance Agency, where he plays a pivotal role in vital housing initiatives. Herby also serves as an ambassador for Eastern Bank, promoting the bank's mission and values.
His dedication extends to serving as an active board member of Build Health International, the Black Economic Council of Massachusetts, and the Haiti Development Institute, where he passionately advances their respective missions. Furthermore, Herby provides advisory support as a member of Makeway, sharing his insights and guidance.
Herby Duverné's contributions have not gone unnoticed. He has been the recipient of numerous awards and recognition, including the 2005 YMCA's Black Achievers Award, the 2016 Boston's GK25 honor, the 2016 ILC's Immigrant Entrepreneur of the Year Award for Business Growth, and the 2018 NAACP Kenneth Guscott Legacy Business Award. In 2023, he was rightfully named one of the Most Influential Bostonians.
Mr. Duverné earned both Bachelor's and Master's degrees from Northeastern University.
He, along with his wife, Claire, calls Woburn, MA, home, where they cherish moments with their three children: Ashley, Jayden, and Ashden.