U.S. Haitian Chamber of Commerce Announces Recipient of the Prestigious 2023 Toussaint Louverture Award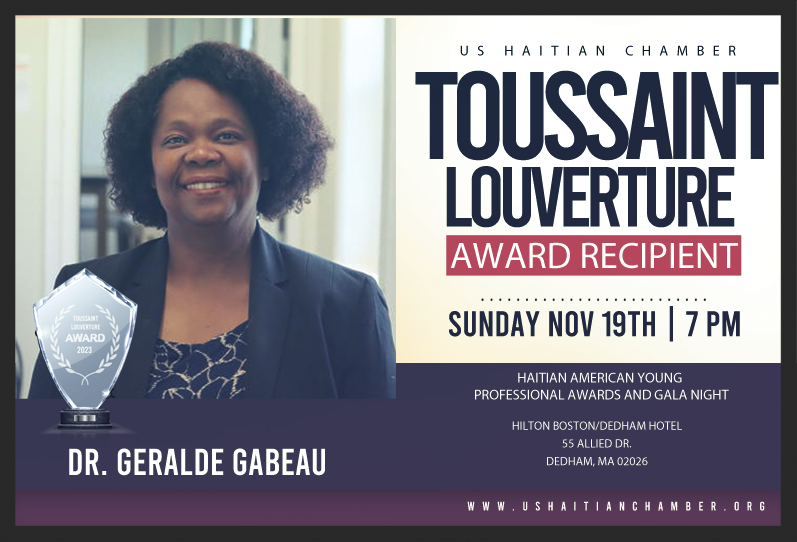 The U.S. Haitian Chamber of Commerce is honored to announce Dr. Geralde Gabeau as the distinguished recipient of the 2023 Toussaint Louverture Award. This accolade is in recognition of Dr. Gabeau's exceptional contributions to the Haitian community in Massachusetts and her impactful outreach that extends well beyond state lines.
Dr. Gabeau's dedication to service and advocacy reflects the spirit of Toussaint Louverture, a figure synonymous with strength and resilience. Her work has not only enriched the lives of many but has also been a beacon of inspiration and leadership within our community.
The award will be presented to Dr. Gabeau at our 4th Annual Haitian American Young Professional Awards and Gala Night. We invite you to join us in celebrating this monumental occasion:
Date: November 19, 2023
Venue: Hilton Hotel, Dedham, Massachusetts
Time: 7 pm
The evening promises to be a grand affair, recognizing the achievements of Haitian-American professionals and fostering connections that strengthen our community's fabric. As we honor Dr. Gabeau, we also celebrate the enduring spirit and cultural richness of the Haitian people.
For event details and ticket information, please visit click here.
We look forward to seeing you there and sharing this joyous celebration.
DR. GERALDE GABEAU
Executive Director of the Immigrant Family Services Institute (IFSI-USA)
Dr. Geralde Gabeau is a well-respected Haitian leader in Massachusetts. With over 20 years of experience working with the Boston immigrant community, Dr. Gabeau has worked on numerous public health initiatives that help bridge care to women and children.
As the Founder and Executive Director of the Immigrant Families Services Institute (IFSI-USA) Dr. Gabeau has focused on immigrant Integration by building & implementing programs & services that directly serve and empower Haitian immigrants. The Immigrant Families Services Institute (IFSI-USA) mission is to center the voices of Haitian migrants and expedite their successful integration into the social and economic fabric of the United States with justice and dignity. Her talent for team-building helps to bring people together to address the needs of Haitian migrants & refugees and build safer & thriving communities for them all.